Embroidered Emblems are a unique and versatile product.  The visual impact created through the use of Embroidered Emblems provides an economical method of enhancing and maintaining a lasting image for companies schools and organizations.  These emblems are also an excellent way to customize all types of apparel.
Individual attention and superior workmanships goes into the manufacture of each emblem,  Washable and durable, they will actually outlast most garments.
We produce many different sizes and shapes of emblems.  Available in 126 shades of vibrant color fast rayon thread and 120 colors of the highest grade twill fabric.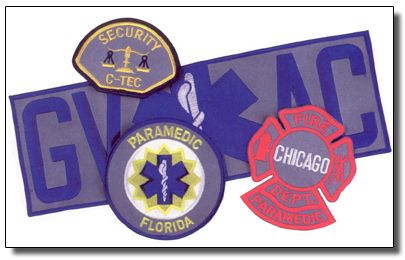 Reflective Emblems are the number one choice for high visibility in low light or adverse weather conditions.  The use of these custom emblems on uniforms, shirts, caps, jackets and bags displays a safety first approach to the visibility of the wearer.  The high grade polyester cloth backing is embedded with reflective lenses with similar reflective performance as found on cars, bicycles, and road signs.
The polyester backing is available in 14 different colors and can be embroidered, die cut, and merrowed to the size and shape of your choice.
Minimum size of lettering is 3/16 in. high.